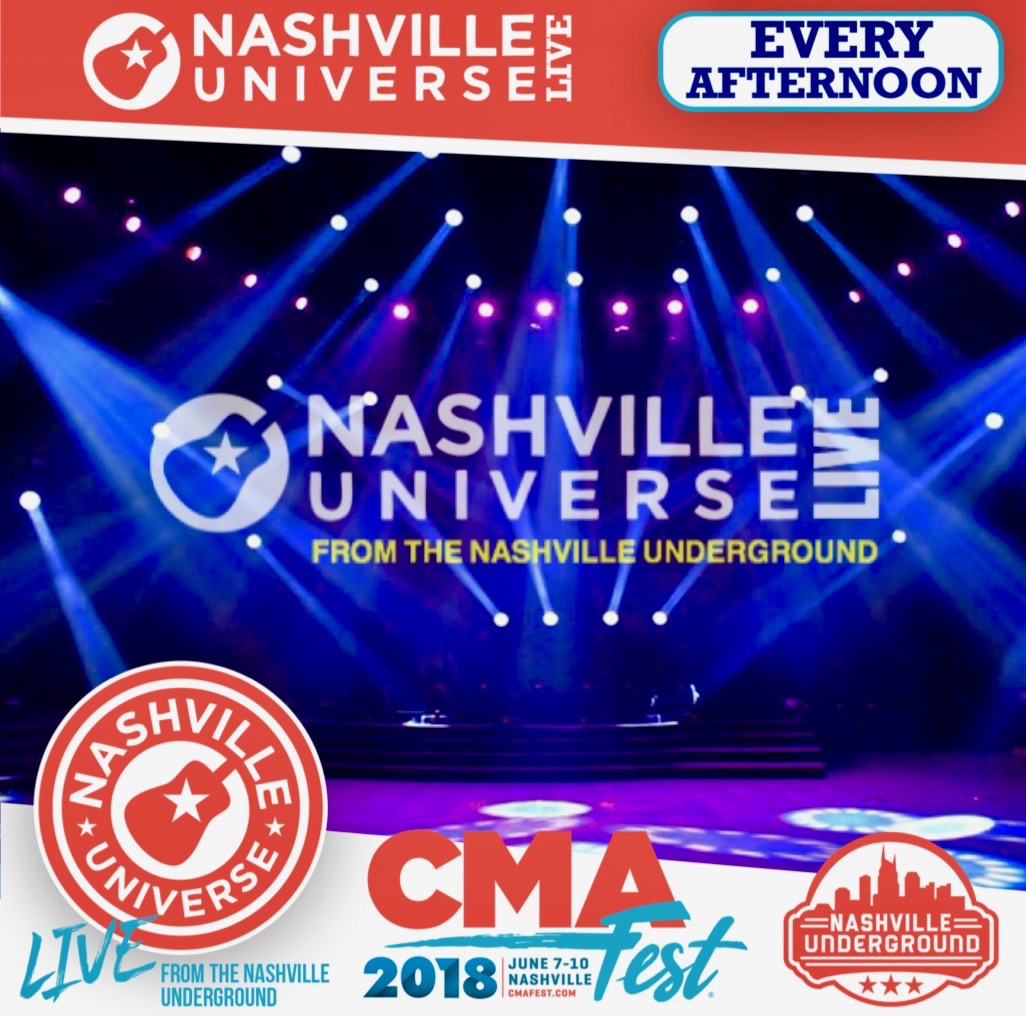 INSIDE THE NASHVILLE UNDERGROUND
105 BROADWAY * NASHVILLE, TENNESSEE
THE "NASHVILLE UNIVERSE LIVE" STAGE INSIDE THE NASHVILLE UNDERGROUND WILL HOST OVER 30 OF THE BEST EMERGING STARS IN COUNTRY MUSIC DURING CMA FEST 2018!
THE COUNTRY NETWORK WILL BE ON HAND FOR THE FRIDAY & SATURDAY SHOWS, TAPING FOR THE FORTHCOMING NEW "NASHVILLE UNIVERSE LIVE" SERIES WHICH WILL BE AIRED ON TCN!
1:00 JT Lewis
1:45 Jillian Cardarelli
2:30 Adam Rutledge
3:15 Jada Vance
4:00 Kelsie May
4:45 Dakota Danielle
1:00 Southern Halo
1:30 Lucas Hoge
2:00 2Steel Girls
2:30 Billy Dawson
3:00 Morgan Myles
3:30 Aaron Goodvin
4:00 Jolivi
4:30 Barrett Baber
5:00 Fiona Culley
5:30 Zach Stone
1:00 Tiffany Ashton
1:30 Adley
2:00 Celeste Kellogg
2:30 Sarabeth
3:00 Brailey Lenderman
3:30 Caroline Dare
4:00 Tate Stevens
4:30 Darrin Morris Band
5:00 Christina Taylor
5:30 Chris Biano
Sunday June 10th
Country / Gospel Family Brunch
11am-3pm
Featuring over 15 amazing country, gospel, bluegrass & christian artists including 2Steel Girls, Billy Dawson, Celeste Kellogg, Chris Biano, Darrin MorrisBand, Fiona Culley, Kolby Koloff, Lucas Hoge, Mark Willis, Michael Rogers, Morgan Miles, Sarabeth, Tate Stevens, Tiffany Ashton, Val Storey, and more!